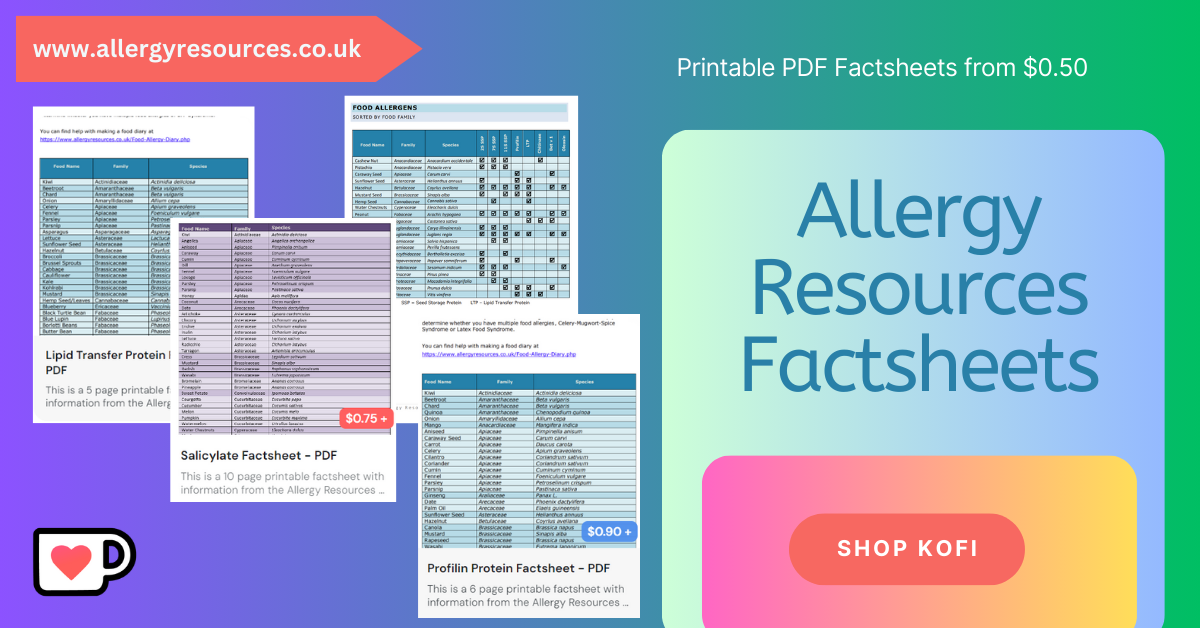 GUM ARABIC ALLERGY
Key Allergens
Arabic gum (also called acacia gum) is a product made from the sap of Acacia plants. These plants are in the Fabaceae family of plants, which are also known as legumes.

It is a heavily processed product which is used as an emulsifier, thickener and stabiliser in many foods.

Processed additives have an E-Number to help easily identify them on products, the E-Number for gum arabic is E414.


Food Intolerances
Gum arabic is a low FODMAP food.
stands for
F
ermentable
o
ligosaccharides,
d
isaccharides,
m
onosaccharides
a
nd
p
olyols. Foods high in FODMAPs can cause symptoms of food intolerance, affecting the gastro intestinal system and this can be mistaken for a true IgE food allergy.
Gum arabic is a food moderate in
salicylates
. Salicylates have the potential to cause worsening of asthma, swelling, itching and hives as well as food intolerance symptoms in people who are sensitive to salicylates.
You can read more about
Food Intolerances
on the dedicated Food Intolerance Page.
Associated Syndromes
Gum Arabic is not linked to any allergic syndromes at present.


Cross Reactivity
Other plants in the Fabaceae family include various beans and peas, lupin, chickpeas, fenugreek, soya (edamame), green beans, lentils, liquorice, mung beans, peanuts, runner beans, guar gum and tamarind.

Note that these food lists are not exhaustive, the most up to date information is on the Cross Reactivity Tool.




Resources
Websites
Dermnet NZ - Food Additives and E|-Number
Allergen Encyclopedia - Gum Arabic
Articles and Journals
Severe work-related asthma from gum arabic exposure in a bubblegum factory worker, 2023
Anaphylaxis to food additives, 2022
Occupational immediate type allergy to soapnut and quillaja bark, 2021
Clinical effects of Gum Arabic (Acacia): A Mini Review, 2019
IgE antibodies specific for carbohydrates in a patient allergic to gum Arabic (Acacia senegal), 2017
Thaumatin and gum arabic allergy in chewing gum factory workers, 2017
Re-evaluation of acacia gum (E 414) as a food additive, 2017
Gum Arabic as a Cause of Occupational Allergy, 2011
Sensitization due to Gum Arabic (Acacia senegal): The Cause of Occupational Allergic Asthma or Crossreaction to Carbohydrates?, 2006
Severe anaphylactic shock with heart arrest caused by coffee and gum arabic, potentiated by beta-blocking eyedrops, 1993
Let me know if you found any of these interesting or useful. If you spot an article or research that you think is interesting you can message me or tag me on Facebook, Instagram or Twitter - links at the bottom of the page.