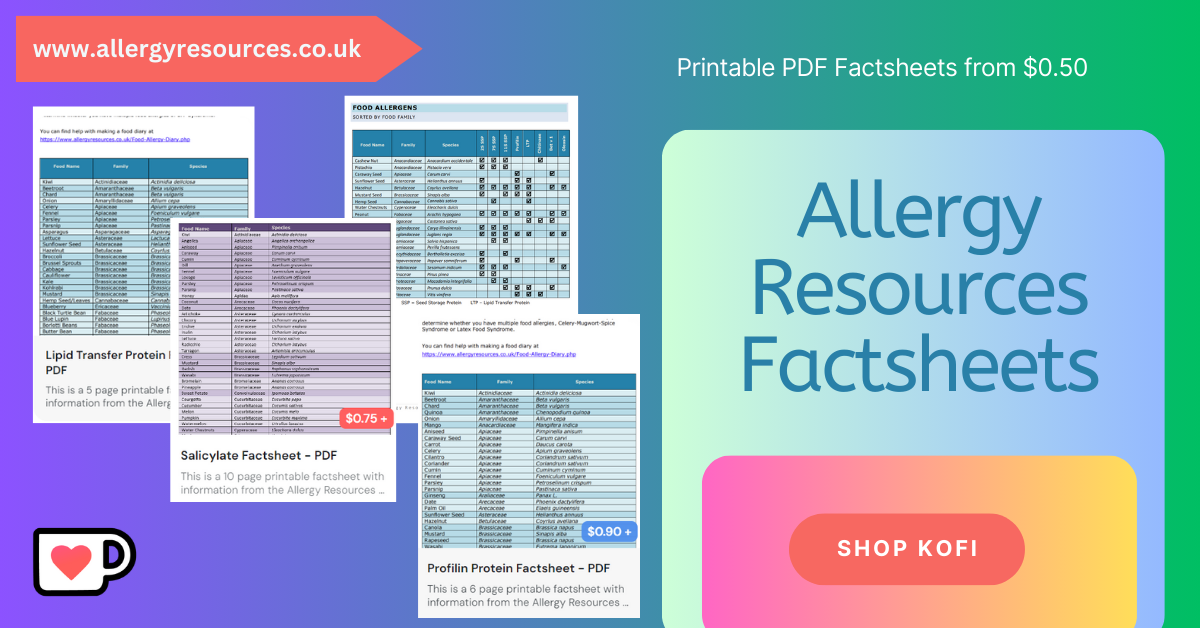 SICHUAN PEPPER ALLERGY
Key Allergens
Sichuan peppers are in the
Rutaceae
family of plants. They are sometimes also called szechuan peppercorns. They are not related to other either bell peppers or black/pink peppercorns, but they look like peppercorns. Other plants in this family include grapefruit, kumquat, lemon, lime, orange and tangerine.
Sichuan peppers contain a
2S Seed Storage Protein
. These are panallergens which are usually associated with nut, seed and legume allergies.
They also contain
11S Seed Storage Proteins
, they are also linked to nut allergies and are also called legumins. Both types of seed storage proteins aren't affected by heat, so can cause an allergic reaction even after cooking.
Food Intolerances
Sichuan pepper is a low FODMAP food.
FODMAP
stands for
F
ermentable
o
ligosaccharides,
d
isaccharides,
m
onosaccharides
a
nd
p
olyols. Foods high in FODMAPs can cause symptoms of food intolerance, affecting the gastro intestinal system and this can be mistaken for a true IgE food allergy.
You can read more about
Food Intolerances
on the dedicated Food Intolerance Page.
Associated Syndromes
Sichuan pepper is not currently associated with any allergic syndromes.


Cross Reactivity
Other foods which contain 2S seed storage proteins include brazil nut, buckwheat, canola, cashews, castor beans, chickpeas, cocoa, soya beans, fenugreek, flaxseed, hazelnut, kiwi, lemon, mustard, peanuts, peacan, pine nuts, pistachio, poppy seeds, pumpkin, quinoa, rapeseed, sesame, sunflower seeds, swede, tangerine, turnips and walnuts.

Other foods containing 11S seed storage proteins not mentioned above include almond, chia seeds and macadamia nuts.

Note these food lists are not exhaustive, the most up to date information is on the Cross Reactivity Tool.




Resources
Websites
Science Direct - Sichuan Pepper
Articles and Journals
An Overview of Fruit Allergens: Structural, Functional, Phylogenetical, and Clinical Aspects, 2023
Xanthotoxin (8-methoxypsoralen): A review of its chemistry, pharmacology, pharmacokinetics, and toxicity, 2022
A comparative overview on chili pepper (capsicum genus) and sichuan pepper (zanthoxylum genus): From pungent spices to pharma-foods, 2021
Zanthoxylum nitidum (Roxb.) DC: Traditional uses, phytochemistry, pharmacological activities and toxicology, 2020
Chemical composition, sensory properties and application of Sichuan pepper (Zanthoxylum genus), 2019
Let me know if you found any of these interesting or useful. If you spot an article or research that you think is interesting you can message me or tag me on Facebook, Instagram or Twitter - links at the bottom of the page.