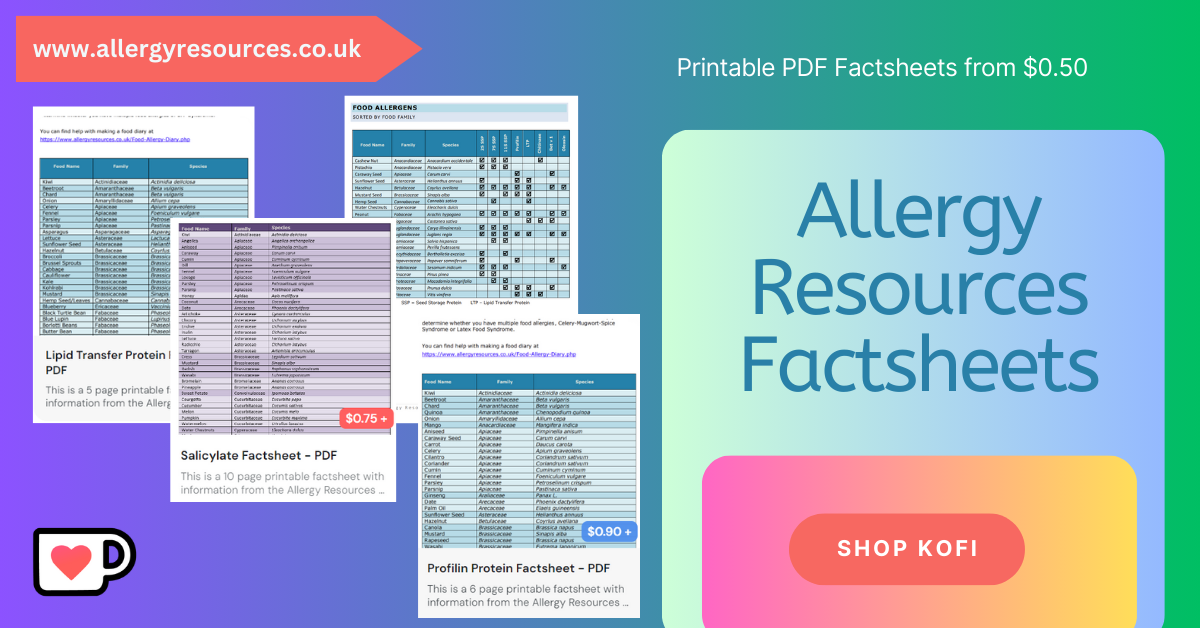 CRESS ALLERGY
Key Allergens
Cress is in the
Brassicaceae
family of plants, other food in this family include broccoli, cabbage, rapeseed (canola), kohrabi, mustard, radish, swede and turnip. Cress is sometimes known as 'mustard cress' due to the appearance of the seeds, they are in the same family of plants, but not the same genus, so are distinctly different.
Watercress is different in appearance, it has much bigger leaves, but is in a different genus of plants, so is not a close relative. Watercress is in the
Brassicaceae
family of plants. An allergy to one may indicate an allergy to the other.
There are no identified allergenic proteins in cress or watercress, but other plants in the
Brassicaceae
family contain
2S seed storage proteins
, this may also be the case for cress.
Food Intolerances
As a brassica, cress can be a high
FODMAP
food if eaten in large quantities, in normal amounts it can be eaten by people sensitive to FODMAP foods. Watercress is considered low FODMAP. FODMAP stands for
F
ermentable
o
ligosaccharides,
d
isaccharides,
m
onosaccharides
a
nd
p
olyols. Foods high in FODMAPs can cause symptoms of food intolerance, affecting the gastro intestinal system and this can be mistaken for a true IgE food allergy.
Cress and watercress are high in
salicylates
. Salicylates have the potential to cause worsening of asthma, swelling, itching and hives as well as food intolerance symptoms in people who are sensitive to salicylates.
You can read more about
Food Intolerances
on the dedicated Food Intolerance Page.
Associated Syndromes
There are currently no allergic syndromes associated with a cress allergy.


Cross Reactivity
Cress is in the Brassicaceae family of plants, other food in this family include broccoli, cabbage, rapeseed (canola), kohrabi, mustard, radish, swede, wasabi and turnip. If you react to other foods in this family of foods you may also react to cress.

This food list is not exhaustive, the most up to date information is on the Cross Reactivity Tool.




Resources
Websites
ATP Science - Salicylate Foods
Articles and Journals
Prevalence and clinical features of pollen-food allergy syndrome in adults with seasonal allergic rhinitis . 2023
Lepidium sativum: Its nutritional composition and therapeutic properties, 2022
Prevalence of Food Allergy in France up to 5.5 Years of Age: Results from the ELFE Cohort, 2022
Modern diabetes devices for continuous blood sugar measuring: Limitations due to contact allergies, 2021
The Role of Lipid Transfer Proteins as Food and Pollen Allergens Outside the Mediterranean Area, 2021
Allergic contact dermatitis from allyl isothiocyanate in a Danish cohort of 259 selected patients, 2004
Cutaneous allergy to mustard in a salad maker, 1987
Let me know if you found any of these interesting or useful. If you spot an article or research that you think is interesting you can message me or tag me on Facebook, Instagram or Twitter - links at the bottom of the page.