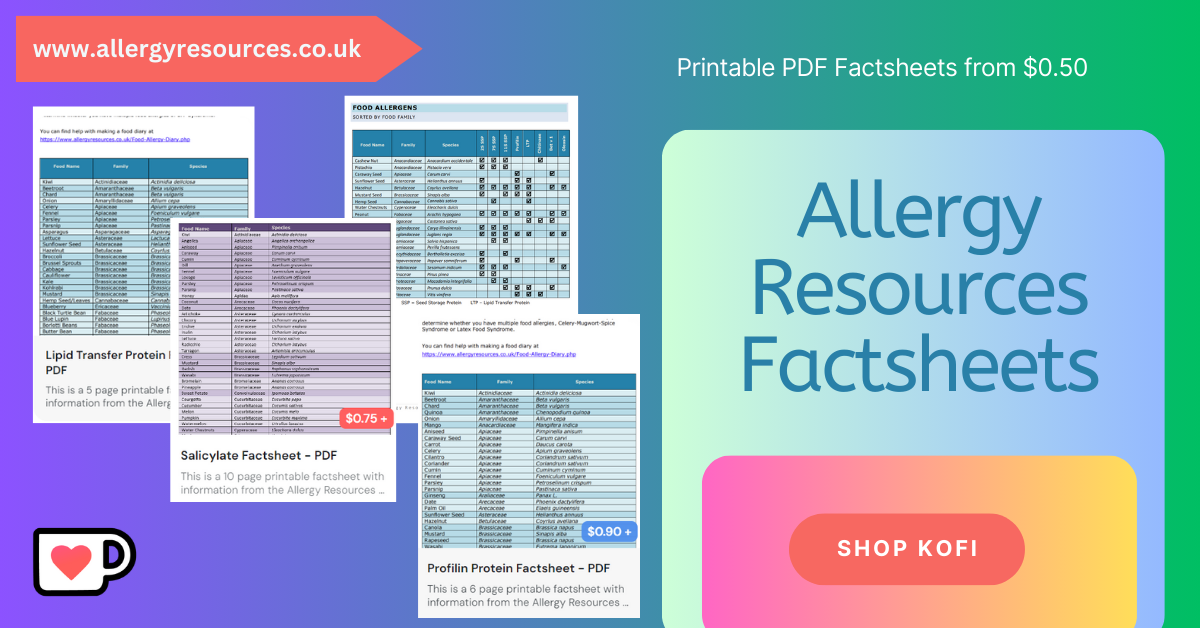 FURANOCOUMARIN ALLERGY
Key Allergens
Also called furocoumarins, these chemicals found in plants can get on the skin and in combination with ultraviolet light (sunlight) can cause a sunburn like rash. Furanocoumarins are found in higher concentrations in fresh herbs, spices and citrus fruits and are natural irritants which can cause allergic contact dermatitis.

This is more common in occupations where you are frequently coming into contact with these foods, like chefs, cooks, growers and pickers.


Associated Syndromes
Furanocoumarins are associated with contact allergic dermatitis and phytophotodermatits. Phytophotodermatitis means that when this chemical comes into contact with the skin and is then exposed to UV sunlight it causes burn like blisters on the skin.


Cross Reactivity
Lots of foods contain furanocoumarins, including citrus fruits, herbs and spices.
You can read more about furanocoumarins by downloading a herb and spice allergens chart from my
Ko-Fi page
for just 25p or visiting the
herb and spice allergy
page.
You can find the most up to date information on the Cross Reactivity Tool.
Resources
Websites
DermNet NZ - Phytophotodermatitis
DermNet NZ - Photocontact Dermatitis
Articles and Journals
Updated review on Indian Ficus species, 2023
Efficacy and Safety of Fig (Ficus carica L.) Leaf Tea in Adults with Mild Atopic Dermatitis: A Double-Blind, Randomized, Placebo-Controlled Preliminary Trial, 2022
Plant Dermatitis: More Than Just Poison Ivy, 2021
Photosensitizing Furocoumarins: Content in Plant Matrices and Kinetics of Supercritical Carbon Dioxide Extraction, 2020
Botanical Sources, Chemistry, Analysis, and Biological Activity of Furanocoumarins of Pharmaceutical Interest, 2019
Identification and Quantitation of Furocoumarin Contents in Popularly Consumed Foods in the U.S, 2018
Tomatine and Furocoumarins: Toxins in Commonly Consumed Plants, 2018
Opinion on Furocoumarins in cosmetic products, 2005
Bullous Phytophotodermatitis Associated With High Natural Concentrations of Furanocoumarins in Limes, 2002
Seasonal patterns and pesticidal effects on the phototoxic linear furanocoumarins in celery, Apium graveolens L, 1992
Dermatitis in Grocery Workers Associated with High Natural Concentrations of Furanocoumarins in Celery, 1990
Let me know if you found any of these interesting or useful. If you spot an article or research that you think is interesting you can message me or tag me on Facebook, Instagram or Twitter - links at the bottom of the page.