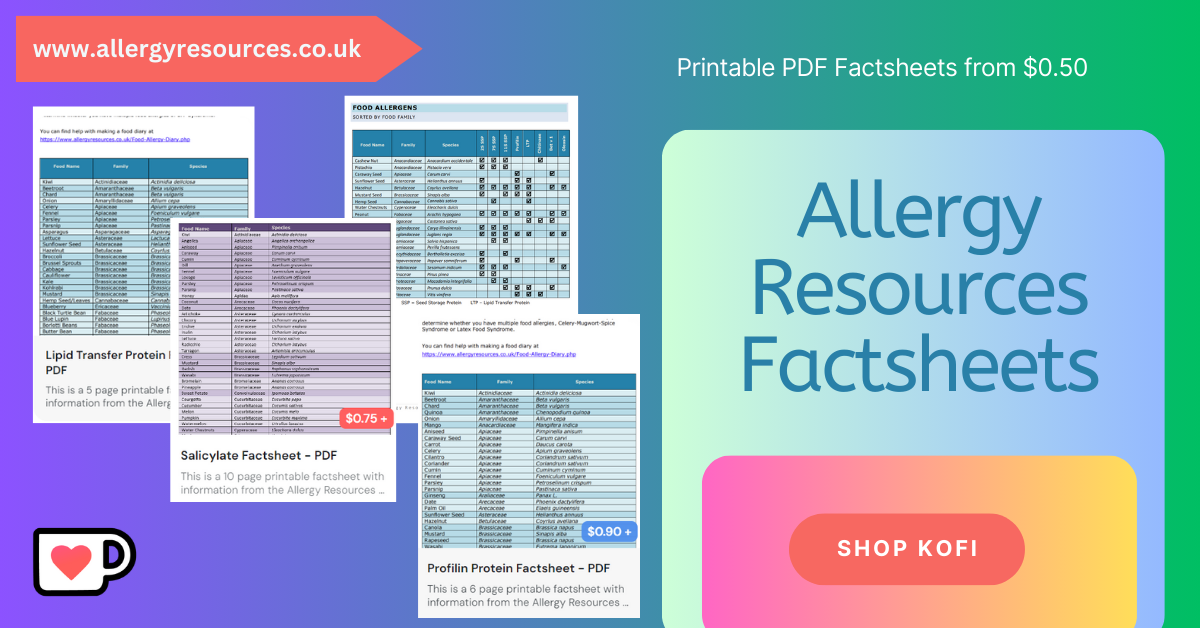 MAPLE SYRUP ALLERGY
Key Allergens
Maple syrup is collected from the sap of maple trees. Maples are in the
Sapindaceae
family of plants. Other edible plants in this family include gurana, ackee fruit and lychee.
Other
Sapindaceae
foods contain
Profilin proteins
, the way that maple syrup is processed by boiling would mean that these are unlikely to be found in maple syrup as these proteins are easily broken down by heat and processing.
Most recorded reactions for maple syrup have been from people who already suffer from a pollen allergy to
maple pollen
Outside of Canada there are a lot of 'fake' maple syrups, you should check ingredients, those that are not genuine will contain multiple ingredients and these should be considered if you think you are allergic to maple syrup.
Food Intolerances
Genuine maple syrup is a food low in
histamine
, so is not suitable for people following a low histamine diet.
Fake maple syrups may be high in
sulphites
, but the genuine article is not. Sulphites are inorganic salts used in preservations and have the potential to cause symptoms of food intolerance to those sensitive to sulphites, this food intolerance is more common in asthmatics. An improvement in symptoms can be made with a change to a low sulphite diet.
Maple syrup is a low FODMAP food when eaten in normal portions.
FODMAP
stands for
F
ermentable
o
ligosaccharides,
d
isaccharides,
m
onosaccharides
a
nd
p
olyols. Foods high in FODMAPs can cause symptoms of food intolerance, affecting the gastro intestinal system and this can be mistaken for a true IgE food allergy.
Maple syrup is also low in
salicylates
. Salicylates have the potential to cause worsening of asthma, swelling, itching and hives as well as food intolerance symptoms in people who are sensitive to salicylates.
You can read more about
Food Intolerances
on the dedicated Food Intolerance Page.
Associated Syndromes
Maple syrup is not currently associated with any allergic syndromes.


Cross Reactivity
Other foods in the Sapindaceae family of plants include gurana, ackee fruit and lychee.

Plants with similar pollen include sycamore trees, horse chestnuts and lychee. If you are allergic to the pollen of these plants, you may also want to avoid maple trees.

Note these food lists are not exhaustive, you can find the most up to date information on the Cross Reactivity Tool.




Resources
Websites
Allergen Encycclopedia - Maple
ATP Science - Salicylate Foods
Articles and Journals
Nutritional, pharmacological, and sensory properties of maple syrup: A comprehensive review, 2023
Identification of the Most Common Allergens of Acer velutinum Pollen, 2022
Black walnut tree syrup is not allergenic in individuals with a documented walnut allergy, 2020
Sulfite concentration in pure maple syrup, 2013
Making maple syrup: Hazardous avocational ingestion of raw sap in a patient with nut and tree pollen sensitivity, 1994
Let me know if you found any of these interesting or useful. If you spot an article or research that you think is interesting you can message me or tag me on Facebook, Instagram or Twitter - links at the bottom of the page.