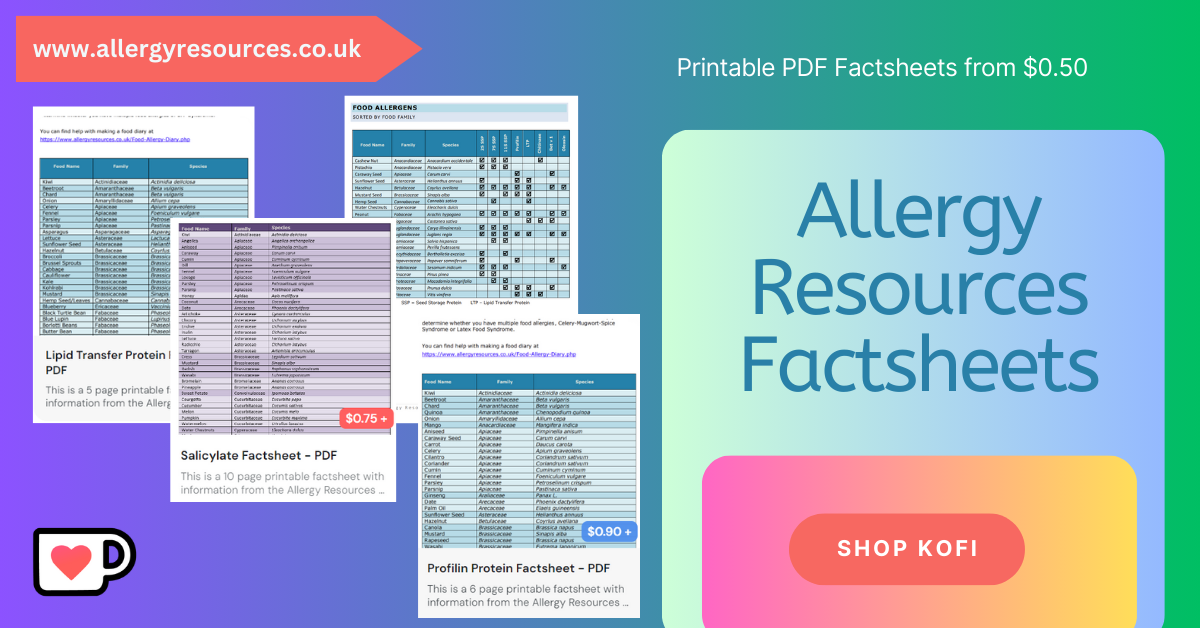 QUINOA ALLERGY
Key Allergens
Quinoa is a plant in the
Amaranthaceae
family of plants. This family of plants also includes spinach, sugar beets and chard. Quinoa is often thought as a cereal, but is in fact the dried seed of the Chenopodium plant.
As it is NOT a cereal it doesn't contain any
gluten
, so is suitable for consumption by coeliacs.
The World Health Organization (WHO) does not have any recorded allergens for quinoa, but it is thought to contain
2S seed storage proteins
,
7S seed storage proteins
and
11S seed storage proteins
. These are proteins more commonly found in nuts, seeds and legumes than in grain. More research is being done to see if quinoa also contains
profilin
and
oleosin
proteins.
The seeds are naturally covered by a saponin, which has a bitter taste and protects the plant from being eaten by birds and insects. It is easily removed with washing.
Food Intolerances
Quinoa is a low FODMAP food.
FODMAP
stands for
F
ermentable
o
ligosaccharides,
d
isaccharides,
m
onosaccharides
a
nd
p
olyols. Foods high in FODMAPs can cause symptoms of food intolerance, affecting the gastro intestinal system and this can be mistaken for a true IgE food allergy.
Quinoa is a food low in salicylates.
Salicylates
have the potential to cause gastrointestinal food intolerance symptoms in people who are sensitive to salicylates.
Quinoa is very high in
lectins
, which are another possible cause of food intolerance. Cooking foods with lectins makes them more digestible and can reduce the symptoms of food intolerance.
You can read more about
Food Intolerances
on the dedicated Food Intolerance Page.
Associated Syndromes
Allergy to quinoa has not been linked to any allergic syndromes at this time.


Cross Reactivity
Foods containing 2S seed storage proteins are peanuts, cashews, brazil nut, mustard, pecan, hazelnut, soya beans, walnut, pistachio, sesame, almonds, kiwi, turnip, pumpkin and sichuan pepper. 2S seed storage proteins are also found in rapeseed, buckwheat, flaxseed, castor beans, mung bean, chickpea, sunflower seeds and pine nuts.
Other foods containing 7S seed storage proteins include peanuts, cashews, pecan, hazelnut, soya beans, walnut, pistachio, macadamia nuts, sesame, lupin, coconut, mung beans and peas. 7S seed storage proteins are also found in buckwheat and lentils.
Other foods containing 11S seed storage proteins include almonds, brazil nuts, cashews, hazelnut, macadamia nuts, mustard, peanuts, pecan, pistachio, sesame, soya beans, walnuts, kiwi and pumpkin. 11S seed storage proteins are also found in sunflower seeds and hemp seeds.
Profilin proteins are also found in celery, peanut, soyabeans, walnut, lupin, almonds, mustard, hazelnut, kiwi, pineapple, chilli, melon, orange, strawberry, lychee, apple, banana, aubergine (eggplant), peach, pear, tomato, dates, cherry, carrot, barley and wheat.
Peanuts, hazelnut, palm oil, buckwheat and sesame seeds all contain oleosin proteins.
Note these food lists are not exhaustive, the most up to date information is on the Cross Reactivity Tool.
Read more about
Grain Allergens and Pseudocereals
.
Resources
Websites
Science Direct - Chenopodium quinoa
Allergen Encyclopedia - Quinoa
Food Intolerance Dietician - Gluten Free Grains - Salicylates
Healthline - Lectin Free Diets
Articles and Journals
Vegan diet—alternative protein sources as potential allergy risk, 2023
Amaranth and quinoa as potential nutraceuticals: A review of anti-nutritional factors, health benefits and their applications in food, medicinal and cosmetic sectors, 2023
Nutritional management of immediate hypersensitivity to legumes in vegetarians, 2022
Quinoa allergenicity – identification of sensitising and cross- reactive quinoa proteins, 2021
The functional ingredients of quinoa (Chenopodium quinoa) and physiological effects of consuming quinoa: A review, 2021
Food anaphylaxis to quinoa, 2020
Occupational asthma induced by quinoa exposure, 2019
Anaphylaxis after home-made quinoa dinner: hold the mustard, 2016
Let me know if you found any of these interesting or useful. If you spot an article or research that you think is interesting you can message me or tag me on Facebook, Instagram or Twitter - links at the bottom of the page.