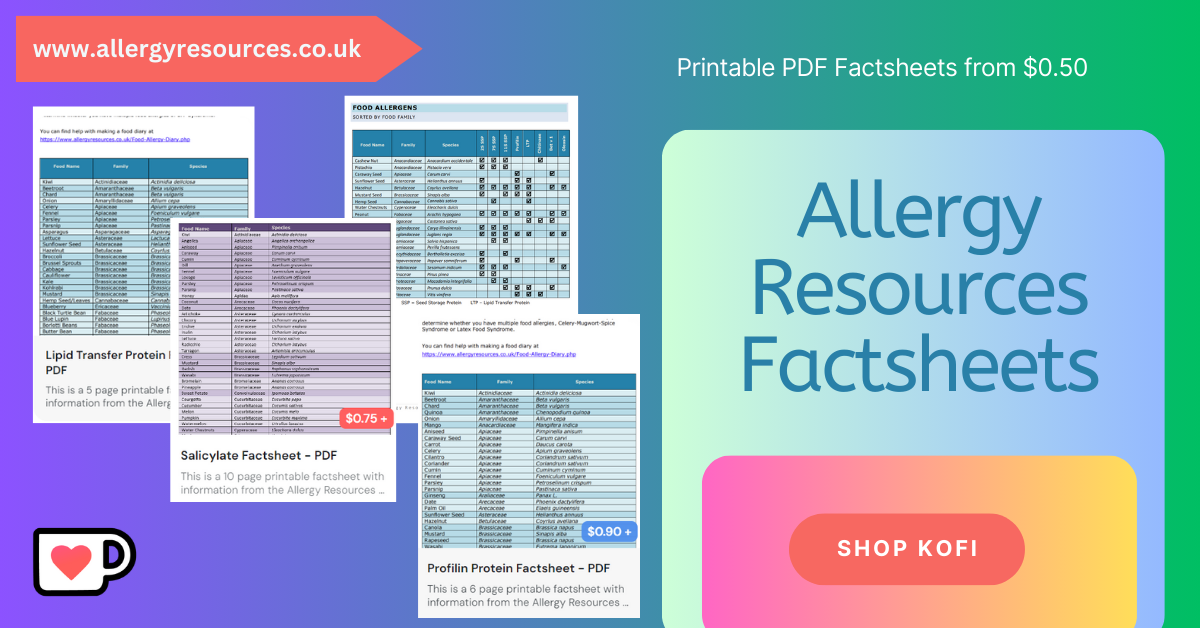 TURMERIC ALLERGY
Key Allergens
Turmeric is a plant in the
Zingiberaceae
family of plants which include ginger and cardamom. The bright orange roots of the plants are dried and used as a spice.
Turmeric is rarely linked to food allergy, to date there are no recorded allergens for turmeric by the World Health Organization (WHO), because there have not been enough study into allergic effects from this food. If you are interested in what is needed by the WHO before they add an allergen to their allergen database you can check that out
HERE
.
One of the most commonly studied component of turmeric is curcumin, it is responsible for the bright orange colour, it can be extracted on it's own and used in products as an E-Number (E100) to give colour.
Turmeric contains eugenol, a well known contact allergen which is strongly associated with kumkum powder. This powder, often containing turmeric, is used to make a paste and is applied to the forehead of hindu women to stain the skin red and denote their marital status. Several studies have cited the turmeric as the dermatitis causing agent.
Food Intolerances
Turmeric is a low FODMAP food, especially in the quantities it is usually consumer.
FODMAP
stands for
F
ermentable
o
ligosaccharides,
d
isaccharides,
m
onosaccharides
a
nd
p
olyols. Foods high in FODMAPs can cause symptoms of food intolerance, affecting the gastro intestinal system and this can be mistaken for a true IgE food allergy.
Turmeric is a food high in
salicylates
. Salicylates have the potential to cause worsening of asthma, swelling, itching and hives as well as food intolerance symptoms in people who are sensitive to salicylates.
You can read more about
Food Intolerances
on the dedicated Food Intolerance Page.
Associated Syndromes
Turmeric is associated with allergic contact dermatitis in some people and has been frequently linked to allergic contact dermatitis in people who use kumkum powder/paste to stain the skin.


Cross Reactivity
If you are allergic to turmeric you may want to avoid other foods in the Zingiberaceae family of foods, including cardamom and ginger.




Resources
Websites
ATP Science - Salicylate Foods
Articles and Journals
Contact Dermatitis Associated with Hindu Religious Practices, 2023
Allergic Contact Dermatitis Associated With Religious Practices: Review of the Literature, 2023
Turmeric: The Yellow Allergen, 2022
Preparation and evaluation of modified herbal "Kumkum Powder" to reduce allergic reactions, 2022
Cultural dermatoses: Turmeric allergy (mangalsutra dermatitis and kumkum dermatitis) – A case report, 2020
A clinical study on allergic contact dermatitis to turmeric, 2013
Allergic contact dermatitis to turmeric in kumkum, 2006
The role of natural color additives in food allergy, 2001
Let me know if you found any of these interesting or useful. If you spot an article or research that you think is interesting you can message me or tag me on Facebook, Instagram or Twitter - links at the bottom of the page.