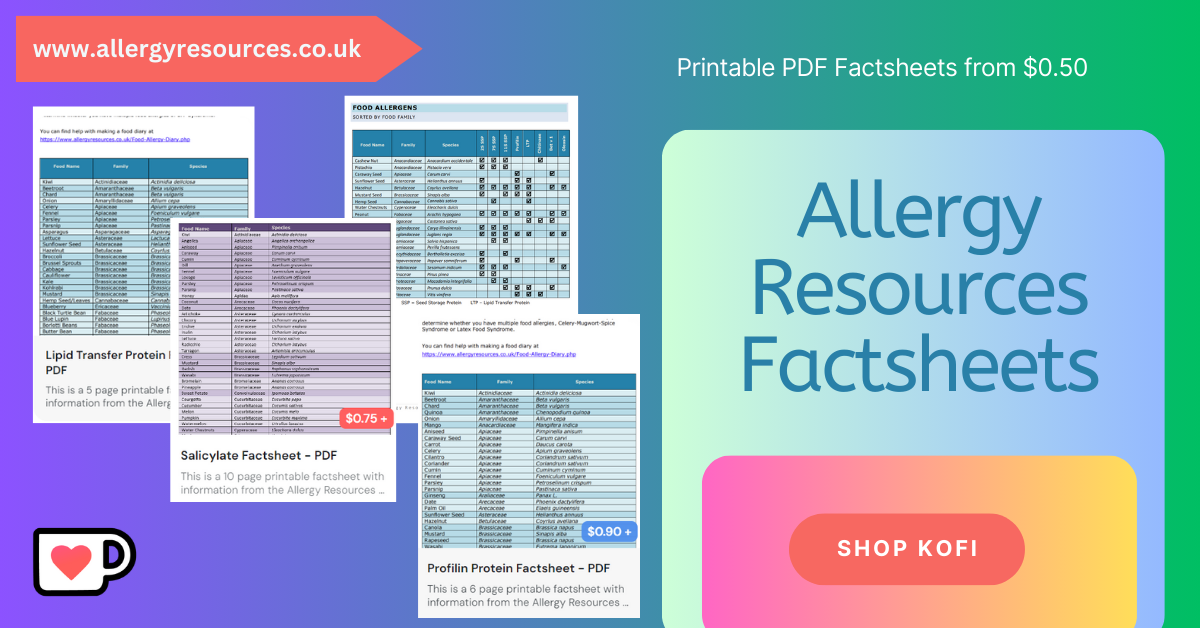 MUSTARD ALLERGY
Key Allergens
Mustard is a plant in the
Brassicaceae
family of plants. Other plants in this family include broccoli, cabbage, rapeseed (canola), radish, swedes and turnips.
There are two types of mustard plant with allergens recognised by the World Health Organization, Oriental Mustard and Yellow Mustard.
Oriental mustard only contains one allergen, Bra j 1, which is a
2S seed storage protein
commonly found in nuts and seeds.
Yellow mustard has 4 food allergens. Sin a 1 is also a 2S seed storage protein and Sin a 2 is an
11S seed storage protein
.
Sin a 3 is a
Lipid Transfer Protein
(LTP) and Sin a 4 is a
profilin protein
. These are all panallergens, proteins which can cause allergies over a larger groups of foods which are sometimes seemingly unrelated.
Unprocessed mustard seeds have been shown to contain
furanocoumarins
. These chemicals can get on the skin and in combination with ultraviolet light (sunlight) can cause a sunburn like rash. Furanocoumarins are found in higher concentrations in fresh herbs and are natural irritants which can cause allergic contact dermatitis. This is more common in occupations where you are frequently coming into contact with the food, like chefs, cooks, growers and pickers.
Food Intolerances
Fresh mustard is low in
sulphites
, but any processed mustard may contain moderate amounts, this should be indicated on the label. Sulphites are inorganic salts used in preservations and have the potential to cause symptoms of food intolerance to those sensitive to sulphites, this food intolerance is more common in asthmatics. An improvement in symptoms can be made with a change to a low sulphite diet.
Mustard seeds are high in
salicylates
. Salicylates have the potential to cause worsening of asthma, swelling, itching and hives as well as food intolerance symptoms in people who are sensitive to salicylates.
You can read more about
Food Intolerances
on the dedicated Food Intolerance Page.
Associated Syndromes
Yellow mustard allergy can be linked to
LTP Syndrome
, where similarly shaped proteins in other plants resemble those in mustard and elicit an allergic reaction.
Allergy to mustard seed is sometimes linked to
Celery-Mugwort-Spice Syndrome
as the sensitising allergen is a profilin protein called Art v 4, these proteins are also sometimes also called Bet v 2 proteins.
There is also a link between mustard and
Latex Food Syndrome
. The plant involved in latex allergy
Hevea brasiliensis
, the rubber tree plant, has an allergen called Hev b 8 which is a profilin protein. Those very sensitised to latex may have a contact allergic reaction from other foods or plants containing profilin proteins, there is less evidence of this than sensitisation to other latex linked proteins like hevein and chitinases.
Cross Reactivity
Other food containing 2S albumin seed storage proteins are cashews, peanuts, brazil nuts, turnips, rapeseed, pecans, chickpeas, hazelnuts, pistachio, buckwheat, soya, sunflower seeds, walnuts, kiwi, castor beans and sesame seeds.

Other food containing 11S proteins (not already mentioned above) are pumpkins, walnuts and almonds.

Common foods involved in LTP allergy include kiwi, strawberries, sunflower seeds, walnut, apple, mulberry, banana, pea, apricot, cherry, plum, almond, peach pomegranate, raspberry, tomato, grape, celery, peanut, asparagus, cabbage, broccoli, chestnut, lemon, tangerine, orange, hazelnut, lettuce, lentils, lupin, green bean, pear, mustard, wheat and maize.

Other foods containing profilin allergens are celery, peanut, soyabeans, lychee, walnut, lupin, almonds, hazelnut, kiwi, pineapple, chilli, melon, orange, strawberry, apple, banana, aubergine (eggplant), peach, pear, tomato, dates, cherry, carrot, barley and wheat. Allergic reactions to some of these foods may be considered a marker of profilin hypersensitivity.




Resources
Websites
Articles and Journals
Let me know if you found any of these interesting or useful. If you spot an article or research that you think is interesting you can message me or tag me on Facebook or Twitter - links at the bottom of the page.